Rojales is traditional Spanish town on the river Segura, where ancient caves and ancient monuments of culture are combined with modern urbanization, glittering restaurants, entertainment centers and shops, water park, golf club and marina.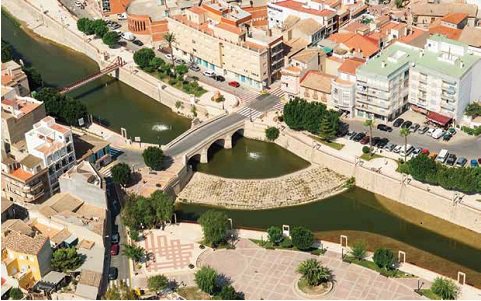 The ideal climate, excellent location and infrastructure have made the once agricultural town a favorite place to relax and live for thousands of citizens across Europe. In the Rojales live about 21 000 people. Nearby there are several popular urbanization. The most famous of them - Ciudad Quesada with a population of 15 000 people, one of the largest urbanization in Spain.
Rojales and Ciudad Quesada enjoys a picturesque location on the banks of the influent river Segura to the Mediterranean Sea. Around - citrus groves and nature reserve of La Mata with pink and green salt lagoons. The territory of the city and urbanization are very well appointed, with wide streets, fragrant gardens.
Cities nearby:
The central city in the south of Costa Blanca - Torrevieja (10 minutes by car).

Known for its beautiful beaches - Guardamar del Segura and Orihuela Costa (15 minutes).
In Rojales run museums and theater, as well as a few preserved monuments of history and culture - bridge from the time of King Carlos III (built in the 18th century and reconstructed, it is still in use today), Archaeological paleontological museum Las Cuevas del Rodeo (traditional residential complex, carved into the rock in the 18th century, today it houses cave workshops and showrooms courts), Hydraulic city monuments 16-18 centuries (Waterwheel, Noria and others). Local authorities have applied a lot of effort to ensure that the city has retained its charm, but at the same time developing the service sector.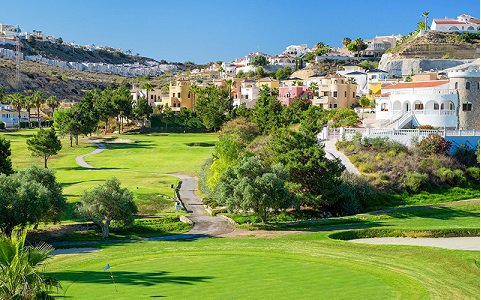 Golf Club La Marquez
One of the oldest golf clubs in the province attracts lovers of ancient noble game from all over Europe. A course for 18 holes with a varied terrain, slopes and lakes, is maintained in perfect condition and is able to satisfy the most demanding players, but also suitable for beginners. The local climate allows you to play golf all year round. Nearby there are spas and gyms, as well as shops, restaurants and entertainment venues.
Other golf clubs in the south of Costa Blanca
Aquapark Rojales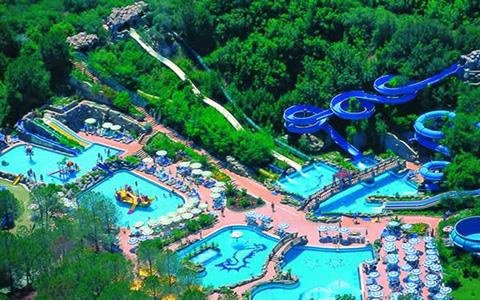 The urbanization of Ciudad Quesada is one of the oldest aquapark of the province, which is very popular for visitors and locals with children, younger students with teachers. It is not a big, with an area of 21 000 square meters of the territory, but the choice of waterslides is for children of all ages.
The favorite high school students attraction - speed slide "zig-zag" with water eddies and steep turns. Or slide "Kamikaze" - on its steep slopes can "fly" at the same time two people. To the little kids will suit the attraction «Magic Carpet» - a family attraction with a gently sloping hill for four people.
For babies there's organized separate area with a shallow warm pool, small slides in the form of figures of animals. For older children there are several pools of different depths.
The park is equipped with shaded rest areas with benches and picnic tables, as well as a large lawn with umbrellas and sun beds, where you can rest from the midday sun. There're working several cafes and snack bars with soft drinks, ice cream and your favorite children dishes. There is a free parking.
Best new buildings Cuidad Quesada/Rojales the company Europisol 2002 S.L.
Choose another real estate in Cuidad Quesada/Rojales
See also:
About Costa Blanca - facts and figures
To build your dream house
Real Estate
Types of property in Spain