A Private swimming pool on the Costa Blanca - it's health and a great pleasure for whole year. But the pool to bring joy and not continuous troubles, it must be properly constructed.
Building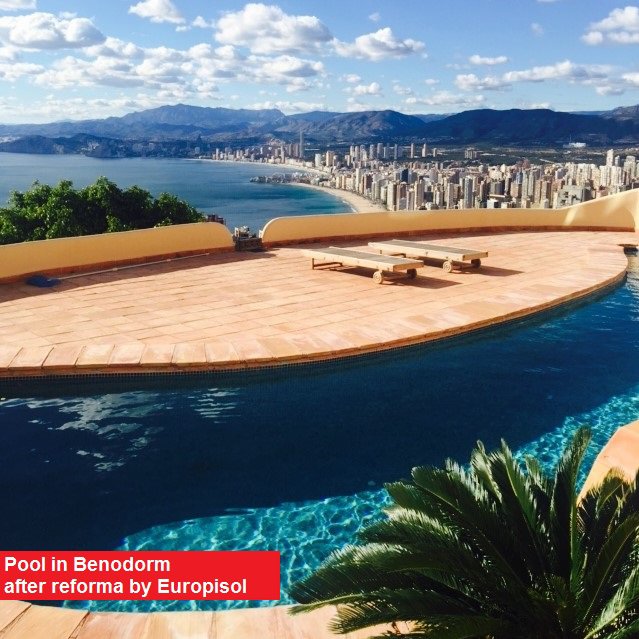 Swimming pool is a complex hydraulic structure, in which continuously are carried out recycling, filtration and disinfection of water. At all stages, these processes must take place without interruption. So that is why it is important to trust the construction of swimming pools only to professionals.
We know everything about swimming pools. With this trend, we began our work on the Costa Blanca, and today we still remain the leader.

Designing and construction of swimming pools, equipping them with all the necessary equipment - we have been doing these for over 15 years. There are many different technologies for construction of swimming pools. The Construction Company EUROPISOL 2002 S.L. offers only the best ones. You just have to choose.
Based on the way of water circulation, we do two types of swimming pools: skimmer and overflow. In the skimmer, water surface gets into the filter system through the skimmer (water inlet), passes through a sand filter and returns back to the pool cleaned. This design requires less space and costs less, so it is often used in private swimming pools. The overflow pool system is more complicated and expensive. Water draining is conducted around the perimeter - in overflow tray, then - in compensation capacitance, and then - in the filter system. This construction looks spectacular and it works effectively. It is used for public swimming pools, as well as on private plots of large size.
According to their embodiment, swimming pools can be made of plastic, steel collapsible and monolithic reinforced concrete. The first two techniques are considered obsolete. Therefore, we offer our customers the choice to stop on the monolithic concrete constructions. Their advantages are obvious:
they can be of any sizes, shapes and volumes, optionally covering - ceramic tiles, glass tiles, or film-covering;

they are durable: a guaranteed service life of the pool - from 10 years.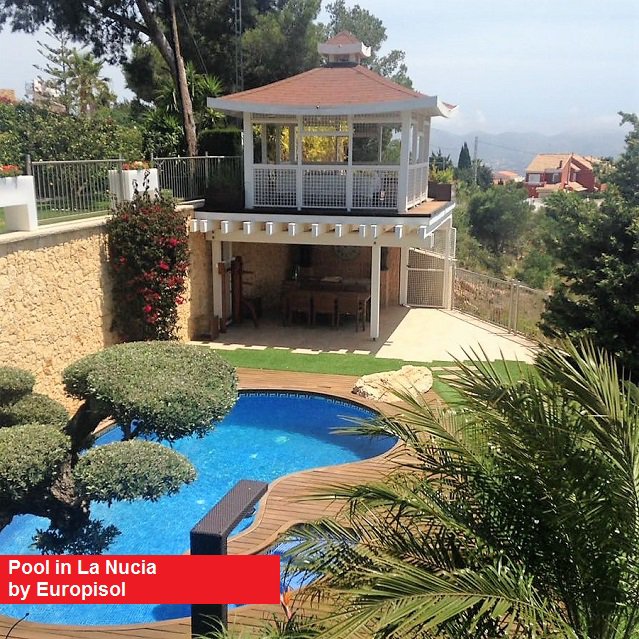 When comes to construct swimming pools of monolithic concrete it is important to have in mind the right design.
So that the bowl does not deform over time or get covered with micro-cracks, it is carried out in the form of construction of monolithic reinforced concrete grade not lower than 400 M, the waterproofing materials are flexible and durable.
In order to keep the water clean and healthy in the pool, we recommend to install a quality filtration system and disinfection. Modern equipment ensures perfect water quality in accordance with the sanitary standards.
You can also supplement your swimming pool with different options - for example, you can install a system with sea water, jacuzzi, hydromassage, fountains.

In addition to concrete pools, the company EUROPISOL 2002 S.L. offers its customers the latest technology of building pools with a sandy bottom, which we were one of the first to adapt on the Costa Blanca. Such a structure can no longer be named a swimming pool, but a real natural lagoon. This is a very complex structure, it requires a large area and is expensive. But the result is worth it - a personal sandy lagoon will become a truly luxurious decoration of any plot.
To determine which pool construction is necessary for you, or to choose the right materials and equipment specifically for your needs - our experts will help you understand all these questions. Our professionals will select the best solution for you, saving not only your time but also your money. After all, you wouldn't choose such kind of technology - be sure to get a swimming pool of excellent quality at the best price.
Reform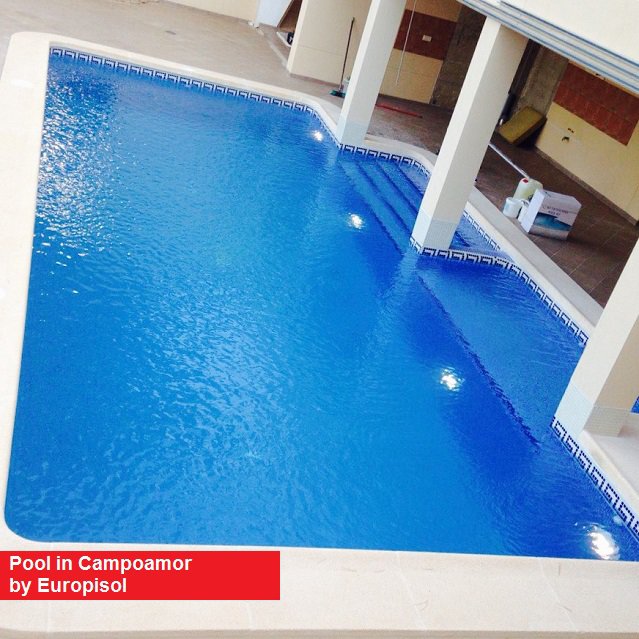 If your pool has ceased to bring you joy and require urgent repair or upgrade - please contact The Construction Company EUROPISOL 2002 S.L. Our experts will quickly eliminate any existing defects, as well as help to improve your pool:
checking and replacing the culverts;

replacing the decorative stone and tiles;

replacing the filters and engines;

eliminating the loss of water in the pool;

establishing a system of salt;

installing a heating system;

attaching to an existing pool an optional pool or Jacuzzi.
Construction and reform of private houses and apartments
Land sales proposals in Costa Blanca
Catalog of commercial real estate
Offers for business